Open Different Log
This screen pops up and lets you open a different logbook. The name you have given each logbook is shown, along with the icon you have picked for each: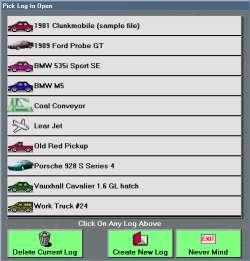 You can also create a new log from here.
(Yes, this version of C.A.R. will import old log files from previous versions of C.A.R.).

---

C.A.T. Software Home ¤ C.A.R. Home ¤ Download ¤ Tour ¤ Register ¤ Support
©2002 Chris' Auto Recorder™ and C.A.R.™ are trademarks of Cooney Applied Technologies, Inc.