Add New Entry
This screen pops up and lets you pick which type of log entry you want to add: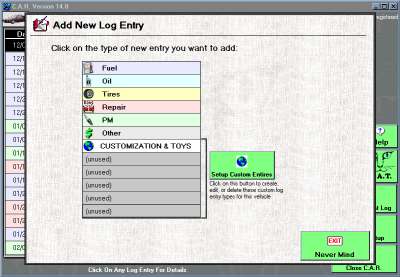 The list has six standard log entry types:
Fuel
Oil
Tires
Repair
PM
Other
It also lists up to six custom entry types that you can set up for each vehicle.

Just click on the entry type you want, and a blank logbook page will appear for you to fill out.

---

C.A.T. Software Home ¤ C.A.R. Home ¤ Download ¤ Tour ¤ Register ¤ Support
©2002 Chris' Auto Recorder™ and C.A.R.™ are trademarks of Cooney Applied Technologies, Inc.