PM Log Entry
This is what a PM or Preventative Maintenance entry looks like: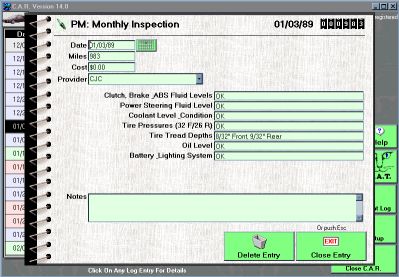 Preventative Maintenance (PM) entries or events are log events for Inspections or Preventative Maintenance. They are scheduled to occur by time or usage intervals.
Inspections
Inspections are looking at, measuring, or in some way testing the condition of some part of your vehicle. If anything wrong is found it is immediately corrected, or a subsequent repair will be required. Some examples might be checking tire pressures, oil level, brake system conditions, turn lights working, coolant level, tire tread remaining, etc.
Preventative Maintenance
PM activities are more complex and time consuming. They may even be things you hire others to do. They often require materials, and things are often replaced or adjusted regardless of their condition. Examples would be changing the engine oil and filter, replacing the air or fuel filter, replacing the engine timing belt, changing the coolant, aligning the front suspension, etc.

---

C.A.T. Software Home ¤ C.A.R. Home ¤ Download ¤ Tour ¤ Register ¤ Support
©2002 Chris' Auto Recorder™ and C.A.R.™ are trademarks of Cooney Applied Technologies, Inc.