Vehicle Configuration
This is the first of three screens that are used to set up the logbook for each vehicle: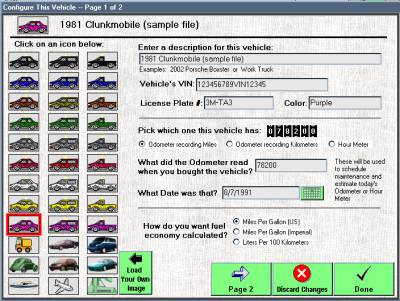 This screen lets you enter identification information for the vehicle and to pick an icon for it.

You can select how you will measure usage:

You can also select how fuel economy will be calculated for this vehicle:
Miles Per Gallon (US)
Miles Per Gallon (Imperial)
Liters Per 100 Kilometers
Note you can pick any of these for any vehicle, regardless of if you buy fuel by the gallon or liter, measure usage by the mile or kilometer.

---

C.A.T. Software Home ¤ C.A.R. Home ¤ Download ¤ Tour ¤ Register ¤ Support
©2002 Chris' Auto Recorder™ and C.A.R.™ are trademarks of Cooney Applied Technologies, Inc.